INTRODUCT
---
Here at Diamond Nails & Spa in Medina, we created the perfect relaxing environment to better serve your needs. Our modern, upscale nail salon offers a truly unique nail experience. As our guest, your satisfaction and safety is our top priority. We maintain cleanliness at all times by sterilizing and sanitizing all of our equipment. For our pedicure service. We use disposable tub liners. New liners are use single use New buffers, files, Pumice stones are single use. Complimentary soft drink and free Wifi. If you have any comments or concerns, please let us know and as always, we hape you enjoy the Diamond Nails & Spa in Medina Experience
Call us today
(763) 478-9222
At Diamond Nails & Spa in Medina where your experience will be unforgettable with adequate service and attention, we take care of each and everyone equally. We have a wide variery of polish and gel colors you can choose from. Come join us today and be treated like royalty.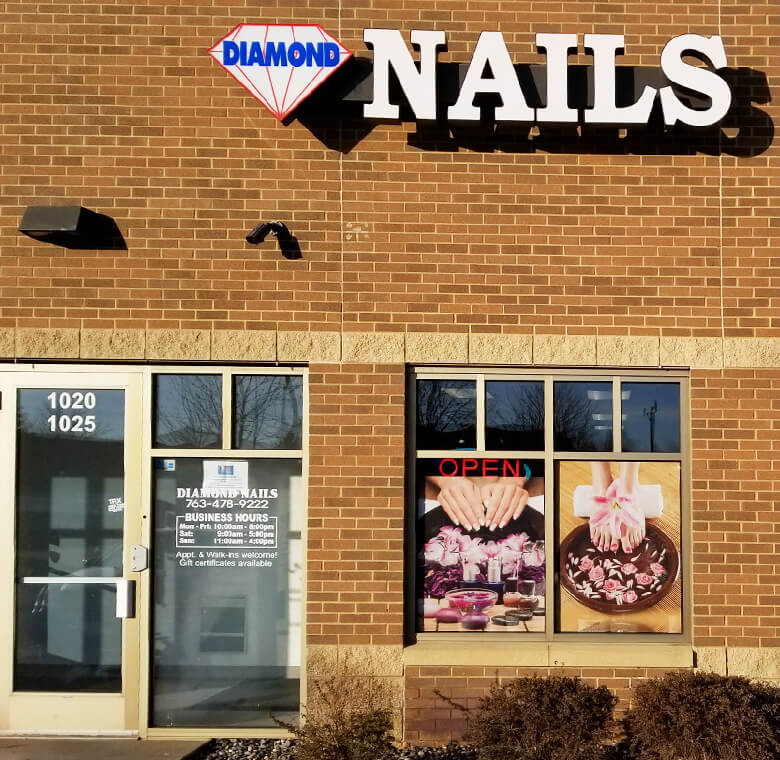 ---
SERVICE IS OUR BUSINESS
PERFECTION IS OUR GOAL
SATISFACION IS OUR GUARANTEE
---
ADDRESS
5145 County Rd. 101 North, Ste. 1025
Medina, MN 55340
BUSINESS HOURS
Monday - Friday:
10:00am - 8:00pm
Saturday:
10:00am - 6:00pm
Sunday:
11:00am - 5:00pm
GIVE YOURSELF A MOMENT OF RELAX
BOOK YOUR SESSION NOW!
---